Emily Freeman said it so well:
'Uncovering your art does not mean you will find only rainbows & sunshine to pour out on everyone around you. Uncovering your art is about uncovering what is really there within you, coming face-to-face with your profound capacity for beauty as well as sin, your deepest dreams and your longing for God.
You are capable of glory-grasping and it might get ugly.
But you are designed to reflect the glory of God, and when you release the fullness of who you most deeply are, we will see God because we are finally seeing you.'
(Emily Freeman, A Million Little Ways, p.36)
The Lord has been slowly wrecking me this month, He knew I would preorder a copy of Emily Freeman's new book A Million Little Ways. He also knew that it would release the day I started this series, that I would have finished my previous books and have time to read it the day it arrived in the mail. That is would speak truth to my heart about these very answers I was asking and puzzled about.
In the wrecking, there has been healing.
While piecing together the pieces which consist of all these passions I have found, deep in my heart & DNA, my abilities and my dreams, may not be clear....I have seen truth.
There may not be one great thing I am made to do.
But there is one great God I am made to glorify in whatever I do.
So God created human beings in his own image. In the image of God he created them; male and female he created them.
(Genesis 1:27)
Behold, I stand at the door and knock. If anyone hears my voice and opens the door, I will come in to him and eat with him, and he with me.
(Revelation 3:20)
The
Lord
appeared to him from far away. I have loved you with an everlasting love; therefore I have continued my faithfulness to you.
(Jeremiah 31:3)
For the
Lord
God is a sun and shield; the
Lord
bestows favor and honor. No good thing does he withhold from those who walk uprightly.
(Psalm 84:11)
We are made in God's image, for the purpose of being in relationship with Him, to reflect His glory!
My life does have great purpose (& so does yours!) but we are never told in scripture that we will know exactly what our God-given purpose is. But we are told that God knows the specific plans He has for us (Jeremiah 29:11). In His grace, we may see what our purpose is but we are not promised that.
But I am know that I am made to glorify Him.
Just like you are.
And the way you do that will look very different to the way I do it! For we are all gifted in so many different ways.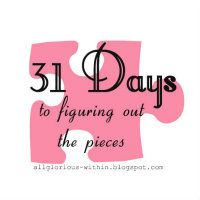 This post is part of my 31 day series for the month of October,
fighting through the fears and sharing the confusing passions I have.
Hoping to figure out the bigger picture of all these interests.