I have some heavy thought for these final few days of figuring out the pieces, putting these passions together and seeing the big picture.
But I wanted to pause here today and just ponder the whole comparison thing.
I really feel that when we compare ourselves to others, we set ourselves up for failure. Because we can't follow someone else's expectations or even do things the same way as another person.
We simply aren't meant to.
We aren't made in the same way.
The best part about our own gifts is that they are exactly that, they are our own gifts.
To be used in a unique way to reflect His glory.
It doesn't help to think that you could never make art in a certain way simply because someone else does it better.
To think that we can't be a photographer because we can't be the best one out there.
Or to think that we can't have a heart for something or be passionate about it because we aren't the only one who is. That is totally silly!!
Stop comparing yourself to other people, I shared a quote on my instagram today:
'You and I are going to have to come to a place where we stop handing people the kind of power only God should wield over us. Change will not come easy. Old habits die hard.'
(Beth Moore, So Long Insecurity)
Isn't this so true? I find it's so true of myself, that I let other people's opinions of me have a greater value than it really should.
I really need to stop this comparison thing, it robs the everyday of joy.
Anyone else struggle with this?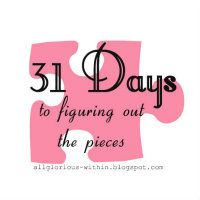 This post is part of my 31 day series for the month of October,
fighting through the fears and sharing the confusing passions I have.
Hoping to figure out the bigger picture of all these interests.